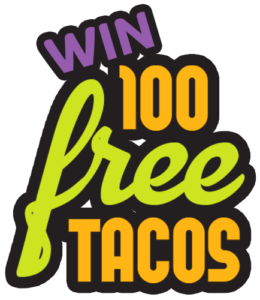 Pssst! We have a secret for Taco Lovers only!
Our CRAZIEST giveaway is on its way! 100 FREE TACOS! Raise your hand if you want to win… did you put your hand up? You know we cannot see you right? Rather than raising your hand, enter our contest by subscribing to our mailing list! Every subscriber will win at least 1 free taco! Nom-Nom.

Here's the thing, we have something exciting to share that we can't quite taco-bout yet; but, we want our loyal community in on the secret.

When the time comes, we want a direct line to let you in on the down-low!  Join our Taco Monster community and you could win a taco feast for you and your friends.

Here are the details:
Win a Taco Feast from Taco Monster!
100 Tacos & beverages served at a prearranged location for free!

The winner will be determined by a random draw.

To enter you must:
1. Subscribe to the Taco Monster Email List
2. Follow us on instagram. @tacomonsterrd

Subscribers get one free taco voucher to Taco Monster!

Winner will have 365 days to use their prize. Must be redeemed during our summer season (May – September) in Central Alberta. Valued over $500*, not cash transferable. Contest IS NOT associated with Facebook or Instagram. You must stay subscribed for the duration of the contest to be eligible to win.
Winner will be announced: September 11th, 2020

Additional terms and conditions:
We promise to respect your data and use it only to inform you about Taco Monster related things. We will never sell, transfer or abuse your data in any way.